The All-Powerful Program Board in Metronome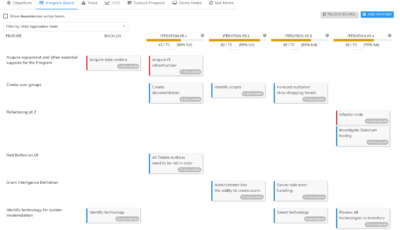 The Program Board provides essential information for implementing SAFe. Because of Radus' years of support for organizational change, our customers have shared many frustrations with us pertaining to their use of ALM tools.  We have heard comments such as "even when we follow the SAFe implementation plan to a "T" and our entire team is trained in all the SAFe taxonomies and ceremonies, we have to diverge from the framework to accommodate for the tool's deficiencies." Read on to learn more, but also be sure to check out our short videos demonstrating Metronome's powerful features.
I am sure you all can relate to this. We developed Metronome to align 100% with 'SAFe'. As a result if you, our customer is committed to SAFe we are committed to support you.
Here is another familiar situation. You/your team are planning your next Program Increment (PI). You have a good sequence of events identified…and… (if my past decade of work is any indication) you and your team find yourselves jumping in and out of your Agile ALM tool because …
Well, you know why!
With Metronome we have pretty much eliminated this kind of time "waster" (jumping in and out)… and this is how we have done it.
One of the most important features in Metronome is the Program Board that allows teams to quickly and easily visualize the feature completion dates, feature and story dependencies and also track any blockers that may impact the completion of the features and stories during the PI execution.
Metronome displays the initial set of features identified for the PI. During the first breakout session of PI Planning, teams access the Program Board can view the features, using filters, that they plan to work on in the upcoming PI. During the planning sessions, teams identify improvement features. Teams can then add these features directly to the Program Board. Using Metronome, teams can also break each feature down into stories and assign them to iterations without having to navigate away from the Program Board. 
With Metronome, teams can quickly set/create and establish the capacity for each iteration in the Program Board. Metronome has visual indicators that helps team plan and commit to stories.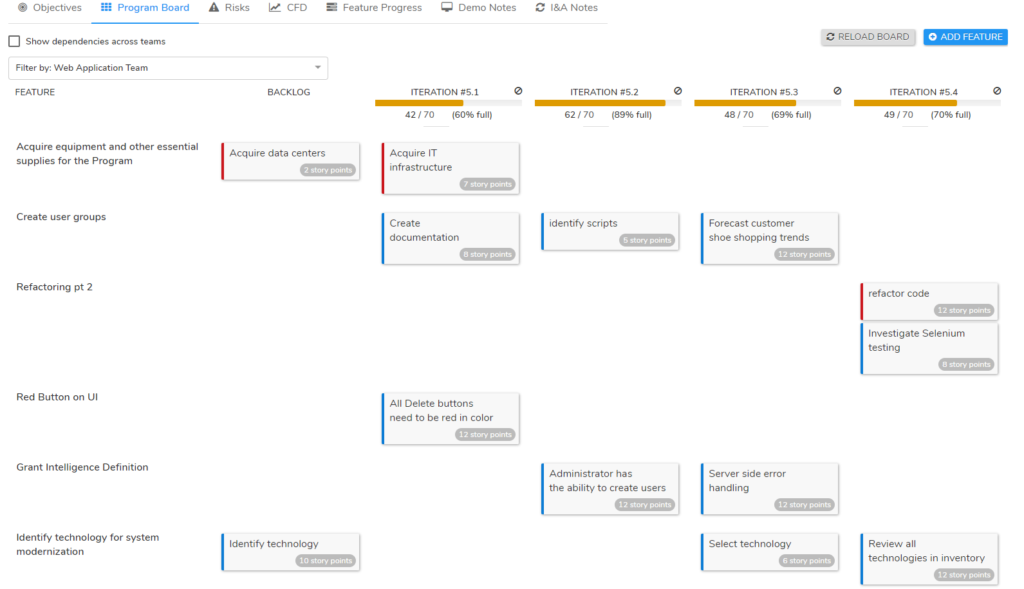 During the 2nd session of PI Planning, teams can more efficiently finalize their plans and ROAM the risks using Metronome. And speaking of risks, dependency identification is one of Metronome's KEY and UNIQUE differentiators! Teams can very quickly and easily track dependencies between stories and features or between two features. As you can see below, Metronome users can quickly view dependencies – as indicated by a red line. Teams can easily identify risks and impediments and ROAM the risks using Metronome.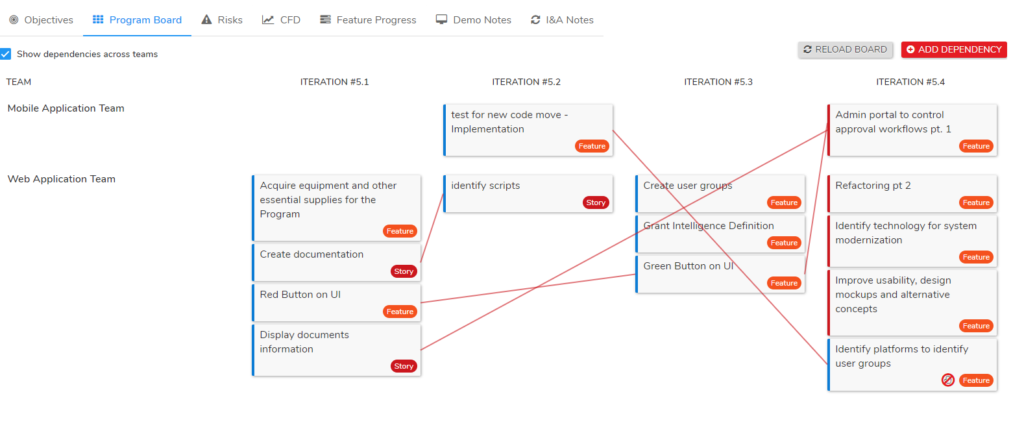 Visualize Blockers & Cross ART Blocker Impact on Program Board
During the execution of the PI, blockers can manifest themselves at any point and can result in significant delay in the completion of the stories, features and even the PI.
When teams identify blockers in stories on their individual StoryBoard, Metronome enables the teams to visualize the blockers on the Program Board. This enables management to understand the common causes of delays for teams and assists with the removal of impediments.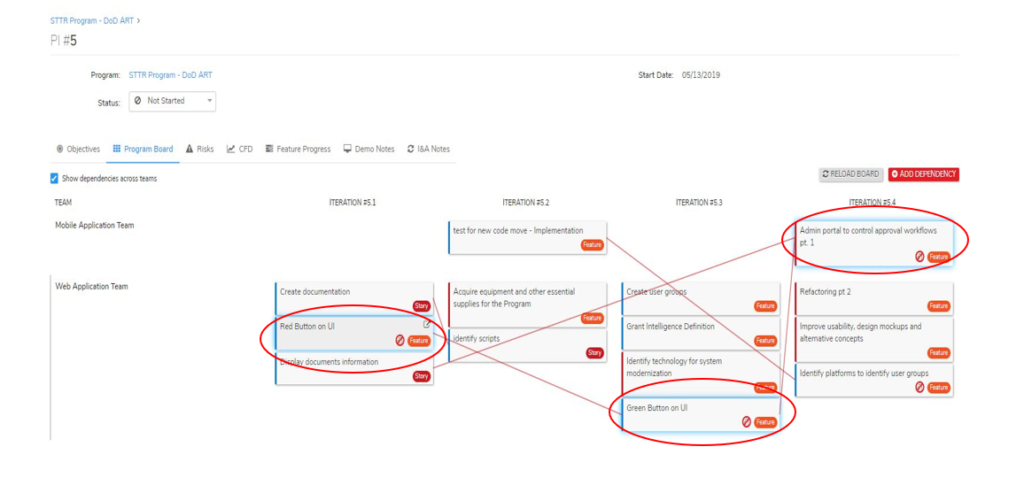 As you can see from the diagram above, all of the key elements of a 'SAFe' Program Board are represented within Metronome's Program Board screen. From a listing of your Features on the far left, to a clear visual of your Backlog, to a breakdown of the Stories within each Iteration- all of the critical information you need is right there for you to see and take action upon. You can even engage in Capacity Planning within the Program Board view.
Metronome is elegant, and easy to learn, yet simple in its design, which enables your Teams to be more nimble in their planning. The result is teams can deliver MORE value and solve MORE problems while minimizing their limited time in navigating between screens within more complex tools.