SAFe and OMB Reporting Solution
Agencies are required to adopt the Technology Business Management (TBM) framework to ensure that business decisions are based on financial and performance tradeoffs necessary to optimize business spending and accelerate business changes. Agencies align their IT investments to the TBM process and link their budgets with performance to make informed decisions about the performance of these investments. Agencies are required to make Major IT Investment updates on a regular basis to the Federal IT Dashboard to reflect the most current information for performance metrics, risks, projects, and activities.
Integrated Solution on the Big Picture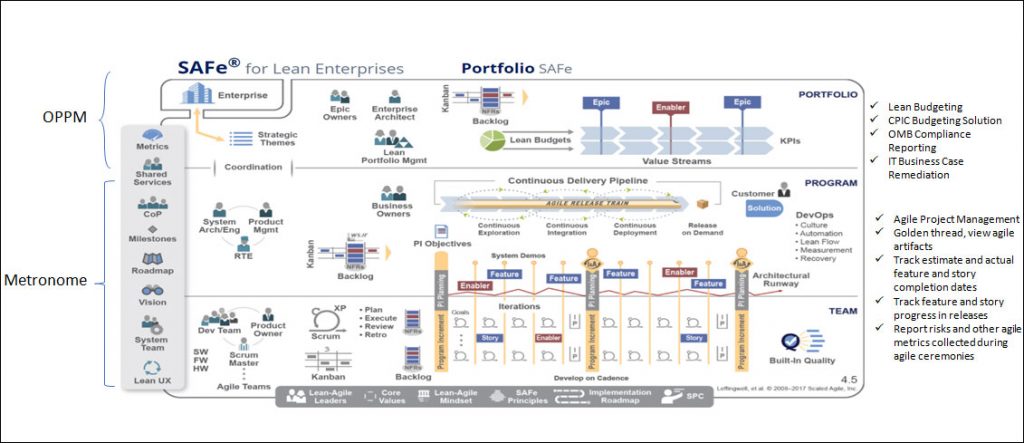 Problem: LACK OF FLOW OF DATA BETWEEN INVESTMENTS AND AGILE PROJECTS
Solution: Management (OPPM) is a proven, configurable, detailed, OMB compliance reporting, which is updated annually or more frequently based on the latest OMB guidance and best practices.
Problem: AGILE ACTIVITIES MANAGED USING TRADITIONAL PROJECT MANAGEMENT METHODS
Solution: Metronome supports agile work management by providing a traceable hierarchy of backlog items like epics, features and stories.
Problem: AGILE ACTIVITIES ARE MANAGED USING TRADITIONAL PROJECT MANAGEMENT TOOLS
Solution: Metronome has been built exclusively for scaling agile practices that Federal teams can leverage.
Flow of Information